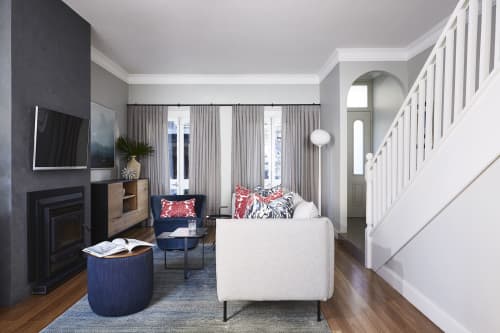 Image credit: Amanda Prior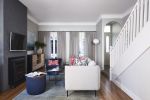 +8

Glebe Townhouse - Interior Design
What started out as a quick modern 'refresh' of the living and dining areas soon turned out to be a full house overhaul and exciting decoration project. Our lovely clients engaged us to update and modernise their townhouse and create a continuity of style, colour and a common design language throughout their home.
As with any project we undertake, a major focus is to tell our clients' story - of their lives, loves, what they have gathered along the way and what gives them joy. Their story was filled with meaningful artwork, sculptural form and saturated colour. We laid a neutral base of greys and blackbutt timber floors as the backdrop on which we added layers of texture, colour and warmth from the moment you step through the door to the master bedroom, guest room and study.
We worked with compact spaces and ensured they could accommodate our clients' busy lifestyle (including their beloved cat), a testament to the fact that beautiful, streamlined design does not always require a large footprint.
Have more questions about this item?