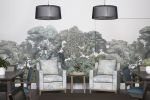 +10

Lady of Grace Aged Care - Interior Design
Featured In Lady of Grace, Dural, Australia
Ioanna Lennox Interiors was tasked with the redesign and refurbishment of Lady of Grace Aged Care, which has revitalised the facility and directly contributed to increased number of residents and ROI.
Lady of Grace is situated in leafy Dural and surrounded by beautiful natural parkland. We took our cues from nature and reflected a verdant, Australian bushland inspired theme in the design, material and finishes choices. We applied a palette of lively colours such as light blues, teals and greens, which vibrantly invigorated the old facility.
Our aim was to recreate a domestic feeling for the residents. The selection of furniture and soft furnishings in distinct but neutral fabrics played an important part and paired well with the textural and graphical finishes of the walls, carpet and look-alike timber flooring used throughout.
Thoughtfully curated and visually striking artwork was chosen, and the placement of these pictures work to aid residents in way-finding along with similarly designed signages.
The end result is a luxurious aged care home that inspires a sense of wellbeing and pleasantness. Both the common areas and rooms are dressed to provide residents and their carers a home that is at once welcoming and functional in its requirement of serving as a dignified residence for the elderly.
Have more questions about this item?