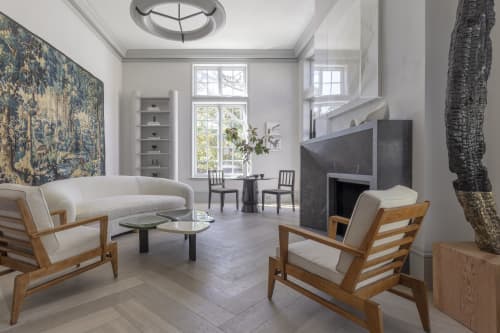 Image credit: David Duncan Livingston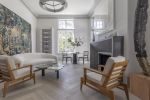 +9
San Francisco Decorator Showcase - Interior Design
Family Room #3: "L'Appartement"
Our design honors the historic details of this important San Francisco Landmark, "Le Petit Trianon," while incorporating new modern elements, answering the question, what would a contemporary French family desire for a gathering space?
We envisioned a multigenerational French family who had been Patrons of great French design over the last 250 years and this room being a mélange of their phenomenal antique family heirlooms, iconic French vintage pieces, and pieces from the new Vanguard of contemporary French designers.
These elements together create a chic little family haven viewed through a California lens, hence the name. L'Appartement in French derives from the Italian appartare, "to separate, to distinguish, to set apart," and the Latin partem, "a piece, a part." Our design for L'Appartement is rooted sensitively in the timeless history of the Petit Trianon, but also distinguishes itself as undeniably Californian and au courant.
We envision this room as a gathering space for the young adults in the family to enjoy an evening cocktail before dinner. The greige of the wall plaster and painted window casings perfectly sets off the brilliant rose and coral San Francisco sunsets visible through the large South and West-facing windows during cocktail hour. Wood herringbone floors with a reclaimed feel appear original to the architecture of the home. A new monolithic mantelpiece in Bardiglio serves as a contemporary counterpoint to the ornate white marble mantel in the Music Room. A large and stunning 18th century tapestry and an exceptional M. Criaerd 18th century Louis XV black and gold lacquer Chinoiserie commode have been treasured by the family for centuries, and a Jean Royère Polar Bear sofa and a pair of René Gabriel armchairs provide vintage additions. Current designs from Christian Liaigre, Démiurge, Eric Schmitt, India Mahdavi, and Christophe Côme represent the next vanguard of French design icons.
We also celebrate our own local artists – like Rosana Castillo Diaz, who lives and works in San Francisco, and who completed the extraordinarily ethereal linen on paper work that we are featuring over the mantel, Untitled, 2012. The stunning sculpture is by another Californian artist, Caitlin Wylde, who rescued this charred tree from the Angeles National Forest after a fire and monumentalized it in bronze as Organic Wood Sculpture.
Have more questions about this item?