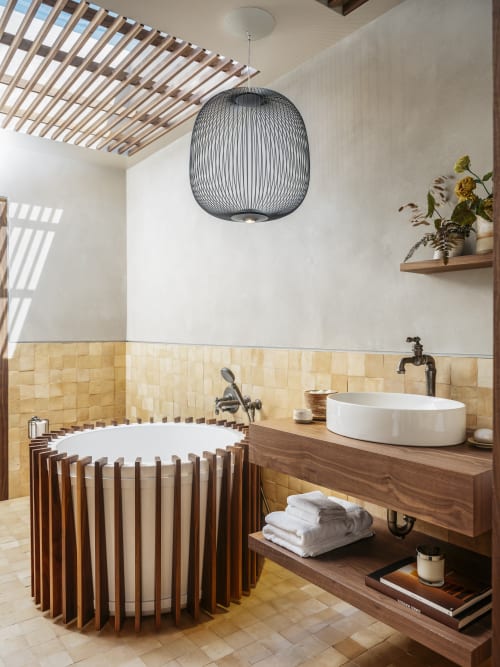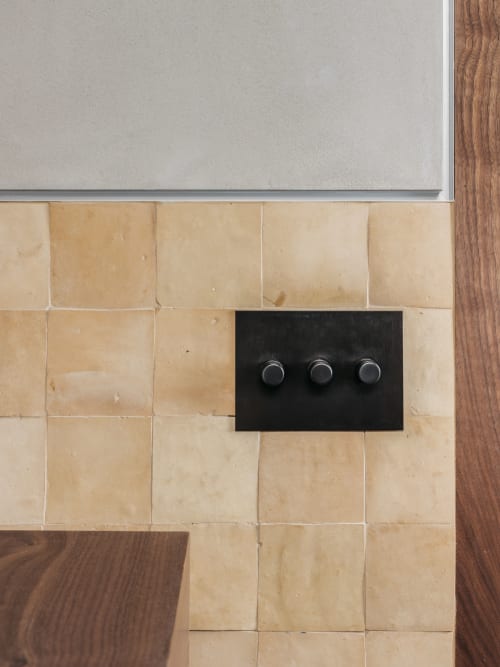 Image credit: Christopher Stark


+4

Interior Design
Description
Geddes Ulinskas architects present the Wabi-Sabi Soak Room at the San Francisco decorator showcase.
Clara Bulfoni Designs a Luxurious Bathroom Inspired by Japanese Design.
The inspiration behind the design for this bathroom is the wabi-sabi aesthetic, which embraces the imperfect, the impermanent and incomplete. The handmade weathered terracotta tiles on the floor and lower part of the walls, together with the soft taupe grey clay plaster, create a serene and organic room, where the earthy tones are contrasted by raw materials. All the faucetry is in vintage nickel finish, while the vanity, the tub, and ceiling skylights are clad in wood slats. The existing skylight is mirrored by a faux one with an LED panel that glows in the dark and creates interesting shadows through wood slats. The Foscarini Spokes pendant adds a lighting accent and sculptural depth to the soak room, while the series of 19th century Japanese iris woodblocks bring poetry to the bare wall. The soak room invites you to restore a sense of calm, presence and beauty, balancing simplicity and authenticity while appreciating the imperfect.