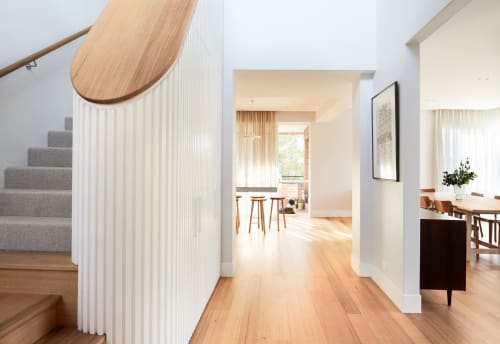 Image credit: Willem-Dirk du Toit @willem_dirk





+10

Holroyd - Interior Design
An existing interwar duplex in Melbourne's St Kilda East on a sloping site was the foundation of this challenging conversion project. The two units had complex floor plans over three levels, including a detached basement. The interior was adapted primarily through the demolition of dividing walls and floors. The basement garage was connected through a new staircase and repurposed as the kids' play area. The solidity of the original building was respected through curved details and materials designed to emphasize mass. A new central void above the entry creates drama and provides visual clarity to the arrangement of spaces. The building's steep elevation provided excellent views but created a disconnection with the outdoors. A key gesture was burying the old garage doors behind a grassy hill to connect the main living space to the garden and swimming pool. The result is a home that's open and connected; an entertainer where young kids and pets can run wild. The central stair and void is the main connecting element. The bench spans across the two building halves.
Builder: Quadro Constructions
Photos: Willem-Dirk du Toit
Stylist: Esme Parker
Have more questions about this item?