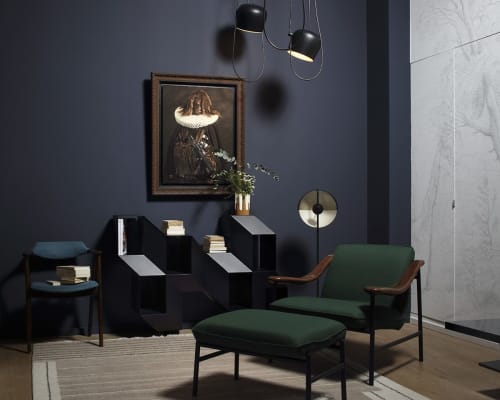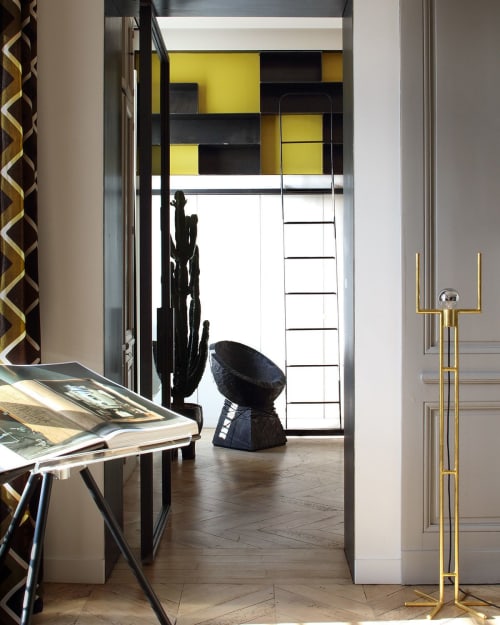 +10

Interior Design
in
Private Residence
, Lyon, France
Description
The studio Claude Cartier Décoration signs the project of a contemporary apartment located on one of the most beautiful squares Lyonnaises of the 2nd district.
A jeweled apartment, renovated a few years ago, in a relevant and structured way by the architect P. Minassian.
The area of ​​250m 2 consists of succession of spaces with impressive volumes for the reception rooms and offers an original reading for the night party, where the rooms were built as "huts" by a ceiling height out of standard.
From the start, we enter into direct contact with the kitchen and the dining room in a row and the large living room. The challenge was to give character and warmth to a more neutral base. The bias of striking colors but also panoramic wallpapers, differentiate the night space, spaces days allowing this singularization. The Blues deaf nights collide with the green "Cartier" specially designed by Resources for this project, define a masculine atmosphere, which was the stake of this feet of a businessman collector.
The layout of the large living room is the illustration of a masterful crossbreeding and the assembly of different styles and materials. The objective of the studio was to orchestrate furniture with contemporary and comfortable accents to pieces of exceptional Design, love at first sight of the owner. Witness this console Christophe Delcourt 4.50m, real gem of cabinetmaking.
The room "hut" is like a refuge in which a headboard with irregular geometry was designed to meet the design of the carpet Visioni (Patricia Urquiola for CC carpet). The mixture of types and materials (Pan concrete and wool Kvadrat, marble and mirror) is here too, at the service of daring and comfort.
The "office" corner, a focus scene visible from the start, sets the tone with the presence of the Russel armchair (Versant Edition) and the color scheme of velvet Pierre Fray velvet curtains. Claude Cartier Studio built this Arty scenario to welcome and enhance the sensitive collection of photographs of its owner.