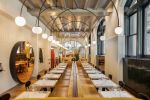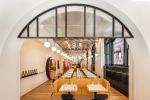 +9

Dandy Restaurant - Interior Design
Featured In Dandy, Montréal, Canada
The customer's request was clear: he wanted a welcoming space, not pretentious, but with a touch of refinement, where you would feel elsewhere when you enter.
Located in Old Montreal on St. James Street, The Dandy is a day-only restaurant. This daytime concept has had an impact on the work of Alexandre Blazys and Benoit Gérard from the outset. They opted for a sober but very bright place, showcasing people and dishes. In our business, we sometimes tend to want to overdo it, to put too many materials.
With the Dandy, the challenge was precisely to assume our few interventions. Inspired by the windows, the only remnants of the old life of the place, they wondered what the lobby of an insurance company would have looked like if it still existed.
They then imagined the service counter as if it were that of a bank, placing it prominently, then the dining room, all in length with two back to back rows of banquettes.
It was done, the space came alive with a strong yet simple gesture.
Sometimes that's all it takes to make a space work.
The added archways and mirrors at the back of the space echoed an existing window shape at the front.
They carefully curated the light fixtures added a much need a whim of whimsy to this spectacular space.
The result is amazing and the detailed ceiling work from which the mobiles hang from catch the eye of the passers by and draws the crowds inside.
No other BG project has gotten this much attention in a while.
The boys are proud of this baby. It's fresh, simple, modern yet completely accurate in this age and time!
Have more questions about this item?