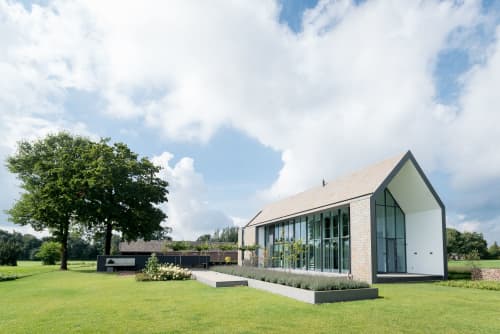 Image credit: Hugo de Jong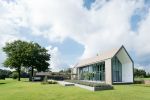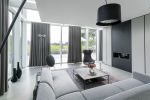 +4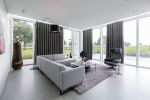 Glass Greenhouse in the Fields - Interior Design
Glass greenhouse!
A modern villa has been designed in the rural surroundings of North Limburg.
"The location of the building, in the middle of the fields, also surrounded by greenhouse horticulture, was the reason for the design. The house is a glass greenhouse with a slate shell around it.
The whole is incl. Terrace placed on a raised plateau, so that the building stands out as a "landmark" above the surrounding fields. "Says Paul Verhorst.
By executing a side façade and end façade in glass, an optimum experience of the environment is created.
The interior is therefore elaborately restrained and soberly designed.
Many white and light shades have been applied.
The high-quality industrial materials used form a contrast with the environment. By contrast, it is emphasized that people are staying in the middle of the countryside.
The modest use of wood provides sufficient contrast and warmth.
The open structure, reclining storey floor and transverse staircase in the home ensure connectivity within the entire volume.
From kitchen, office, bedroom and living room.
The TV that rises and disappears from the floor when used is one of the solutions to increase transparency.
Everything in the home is dedicated to the connection with the outside. A kind of "Court awareness" according to Joep Verheijen.
Item
Glass Greenhouse in the Fields
As seen in
Private Residence
, LI, Netherlands
Have more questions about this item?