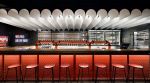 +15

Punkraft - Interior Design
Featured In Punkraft, Kyiv, Ukraine
PUNKRAFT is a craft beer bar just around the corner of a historic pedestrian street in Podol, the Kyiv downtown. This basement spot, packed with craft beer fans these days, used to host a cocktail bar.
Stylistically we inspired by the industrial aesthetics of beer equipment and the philosophy of the craft brewing movement itself such as freedom, punk, experiments and custom production.
Have more questions about this item?