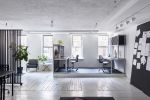 WH-O Offices - Interior Design
Featured In New York, NY
Asa Pingree designed and built out the new office project for growing graphic design company WH-O.
The founders were looking to make the most of a low-ceiling square LES loft space without losing light and flexibility.
The project centers around a conference space whose walls made of built-in shelves let the light through and is perceived as a stand-alone design piece instead of a closed-off room.
"Now when we have a client come in we can see the level of ease they have when they walk in and think that our space is interesting," – Tim co-founder of WH-O studio
Have more questions about this item?