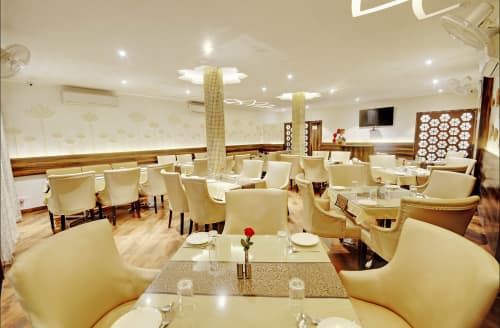 Image credit: Arturo interior designer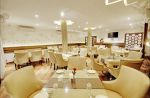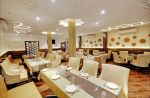 Gokul Restaurant - Interior Design
Featured In Rourkela, India
The Gokul restaurant is part of Anurag hotel Pvt ltd, located at heart of the city of Rourkela city, Orissa, India. The Hotel is very well known for the service and overwhelming response by the customer comes from different location day to day.
The Gokul restaurant is fine dinning restaurant which includes the recipes from south Indian, continental, and Indian dishes.
The concept of Gokul developed by the principal interior designer Iqbal Azam owner of Arturo Interiors,Kolkata, India, as the names Gokul suggest the feel of earthy Indian flavor. The designer chooses the theme for lotus shape for the interior design in term of highlighter. Arturo interiors is very well known designer firm from Kolkata, west Bengal.
It was very difficult for the ceiling to design because of two columns coming in between the area. The designer replaces it very cleverly into the highlighter of restaurant. It has been made round from square to match with the shape and the ceiling around it was given the shape of selected theme, so the obstructed part has been converted as highlighter. The round column covered with gold plated bissaza tiles that give it very Royal effect.
Another work on ceiling which also has its own shine is the fine line back lighted shape of curves which also in reflect the shape of lotus but differently from monotonous design.
The color shade kept as beige brown for the classy effect. The flooring made of bronze rustic vitrified tiles that have dark shade gives the area feel of true fine dine. The mural on the back of sitting on side has been highlighted by surface texture made of MDF which is another element which reflects the same lotus theme, and it is made so that doesn't feel much loud.
The partitions separate the dining area from kitchen area which are back lighted by LED and has smooth effect at end.
Have more questions about this item?