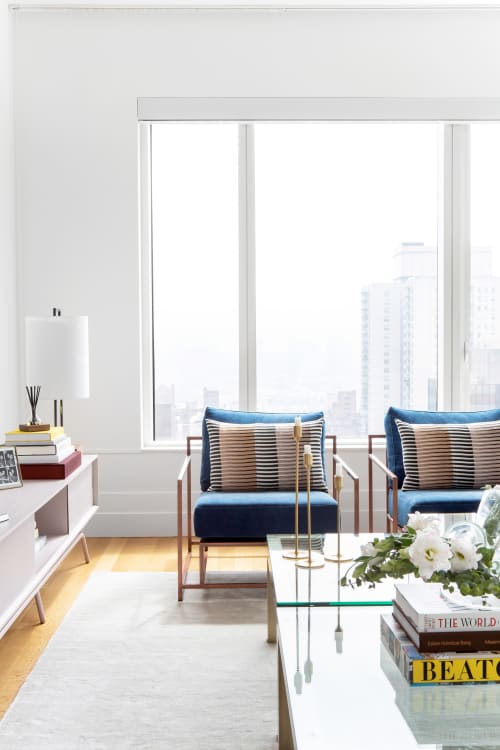 Image credit: Sarah Elliot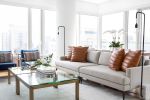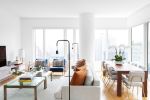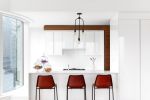 +5

57th Street - Interior Design
In the Upper East Side we encountered this beautiful apartment from my clients. Although the location and the architecture is amazing, this client is renting it short-term therefore we couldn't make any major cosmetic changes. Luckily the canvas was clean and white, easy for us to add their personality and charm.
The living room is an open floorplan with the dining and kitchen. To separate it from the rest we selected a long neutral sofa and anchored with a soft sheen rug and framed it with two marble base floor lamps. In addition, two coffee tables and two sideboards were added to accentuate the length.
This may be a short-term rental, but my clients host a lot of guests, therefore we needed to add an 8 seat table for large dining parties. Timeless colors and clean lines with a touch of brass. Beautiful potted plants or flower arrangements are used to anchor the center because a chandelier was not an option.
But we needed a chandelier moment and made it happen in the kitchen by replacing a simple light fixture with a graphic black finish pendant.
It's important to enter and leave your home on a positive note so we beautified what was a stark hallway with a long Persian runner, vintage finish mirror and added a unique walnut floating shelf for storage.
Just as important is the bedroom; we created a minimal and serene room to relax and rest.
Have more questions about this item?