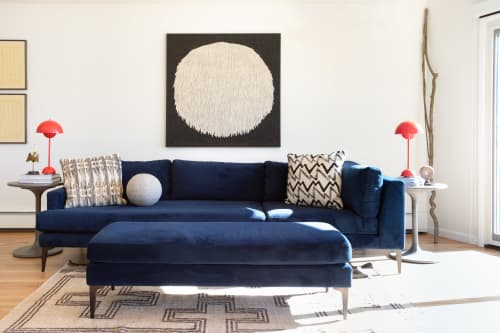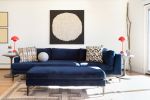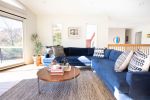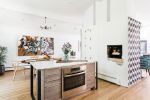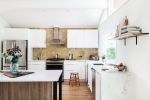 +7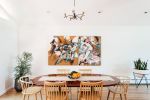 Midcentury in Hudson Valley - Interior Design
The great thing about this midcentury home in Hyde Park, New York, was its near-pristine 1950s condition when my husband and I purchased it in November 2016. It was also in dire need of a complete overhaul. Much of the home was out of date and not up to code, but the potential was clear. Nothing less than a full gut renovation was in order. The dramatic results can be seen in each room of the house.
The exterior flower bed was updated with gabion walls, plants and mid-century style pony wall with house number. We also replaced the deck and added cable railings. The color of the house was always red and we embraced it fully.
The entry/foyer was gutted to include slate tile floors used in the era but we modernized it with custom bookcases instead of railings between the entry and ground floor. Tandem Eames chairs and funky accessories finishes off the space nicely.
The original living room had dark wood paneling throughout but we wanted a crisp white space to highlight our view.
Because we have pets and intend on growing our family, we selected engineered velvet in a dark color. Vintage mid-century pieces and art work is spread throughout; a growing collection which will continue to grow through the years.
To add more of our personality in the space we selected Rio inspired cement tiles for the fireplace living room. I am Brazilian and my husband loved the pattern from the Ipanema Beach sidewalks that inspired the graphic design of the tiles below.
Beyond the fireplace you can see our dining room with a Rosewood mid-century table and contrasting light oak chairs.
Between the kitchen and dining room there was a wall and we removed it immediately and updated the cabinets, finishes and appliances. To warm what could be a stark white lacquer kitchen, we added terracotta tiles and different wood tones.
The master received a fresh coat of paint and more mid-century pieces inspired by the house's architecture.
The master bathroom got a major face lift and the layout was altered to include a large bright shower and double vanity.
There are two other bathrooms in the house. The retro bathroom received a fresh coat of paint and I replaced the mirror and light only but all else remained the same. The guest bathroom downstairs was a complete gut reno because it was non-functional (wall to wall carpeting!) and we modified it so it was en-suite bathroom attached to the guest room.
Downstairs is our family room with a "FAMILY" rug to match. It also serves as my home office so I needed to add lots of storage that didn't distract you when "off line".
Item
Midcentury in Hudson Valley
Have more questions about this item?