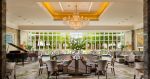 +5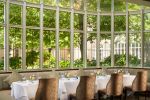 Hotel InterContinental - Interior Design
Featured In InterContinental Dublin, Dublin, Ireland
It's the very heart of the most luxurious Hotel in Dublin and is filled with ALGA by Paulo Antunes' allure. The Lobby and Restaurant areas of the InterContinental Dublin are totally renewed with an elegant urban style shaped by our unique pieces of furniture.
Part of The MHL Hotel Collection, the second largest Hotel Group in Ireland's capital city, the Intercontinental is one of Dublin's finest five-star hotels and is the perfect place to make you feel like a Queen or a King entering a Palace.
In this project, ALGA by Paulo Antunes was responsible for providing the furniture and upholstery required to renovate the lobby/lounge and the restaurant areas transforming these areas into magical and glamorous places where anything can happen. Much like all at ALGA by Paulo Antunes, every piece in this design was carefully placed thinking about the client and the best hospitality experience they can get and have grown accustomed to at the InterContinental Hotel.
The design project was brought to life using some classic pieces from ALGA's collection (Elle Chair with arms | Dinamarca Chair) and other custom-made products such as tables and upholstery. Along with the use of light emperador marble, stainless steel gold bathed details and ash wood veneer, the final project has resulted in an elegant and relaxed atmosphere that handed character to the Hotel's distinct personality and charisma.
With the help of ALGA by Paulo Antunes, the InterContinental has once more made a stand in Dublin!
Have more questions about this item?