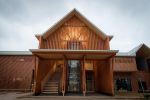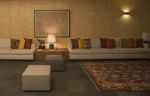 +5

Hotel Feel Viana - Interior Design
Featured In Hotel FeelViana, Viana do Castelo, Portugal
Located at Cabedelo beach, in Viana do Castelo, Portugal, FeelViana is a sustainable 4-star hotel, entirely covered in wood and perfectly integrated with the nature that surrounds it. This hotel, the first sports hotel of Portugal, was born out of love for the sea, adventure, wildlife, healthy living, and the will to bring a new dynamic to the city of Viana.FeelViana does its name justice since this really is a hotel where you can enjoy the best Viana do Castelo has to offer. It's a one-of-a-kind hotel where action and nature lovers can practice their favorite sports and later relax in a comfortable and peaceful environment while listening to the ocean waves in the company of their friends and family.
ALGA by Paulo Antunes was a great help in the making of the hotel's coastal and laid-back design thought from scratch by Vale Machado & Cardoso Lima cabinet. Using custom-made pieces such as armchairs, poufs, daybeds, and sofas and materials like stained ash and textured fabrics, ALGA by Paulo Antunes pieces created an intimate and cozy interior.
FeelViana Sport Hotel is an innovative addition to this calm city and brought a wild side to the beach of Cabedelo. For those who travel the world trying to find a magical place like this, search no more! You have found what you were looking for at FeelViana.
Have more questions about this item?