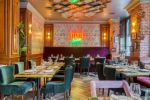 +13

Flavia's Restaurant - Interior Design
Featured In Flavia Madrid, Madrid, Spain
Flavia is an Italian Restaurant and Cocktail Bar located in Recoletos, one of the most sophisticated neighborhoods in Madrid, Spain, offers an authentic Italian dining experience while staying at the heart of Spain.
The restaurant offers Italian food made with products imported directly from the country of pizza and pasta. Still, the very Portuguese ALGA by Paulo Antunes was the one responsible for creating the atmosphere and bringing Italy's elegance to the space.
It was shaped from scratch with the help of custom-made pieces from ALGA by Paulo Antunes. The project's goal was to develop a traditional design with modern and sophisticated elements that were comfortable and inviting for customers to enjoy Madrid's nights.
To bring this exceptional place to life, ALGA by Paulo Antunes carefully produced custom sofas, chairs, bar benches and stools using materials such as velvet, ash, brushed brass, old gold studs, presening pleated and capitoné details.
The result transformed Flavia's into much more than just another Italian restaurant in Madrid. It is now a place to eat well, drink well and feel well, just like Italians love!
With ALGA by Paulo Antunes pieces, the space looks friendly, full of color and energy and is truly capable of transporting us to Italy, making us feel Italian ourselves.
Have more questions about this item?