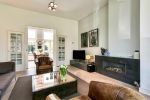 +3

Idol series - Two paintings reunited; 'Myth' & 'Chrysalis'
Oil, collage and mixed media on canvas. Unframed size 91.5 x 61 cm / 36" x 24"
Printmaking is a medium that intrigues me and it's also hugely influential in the way I approach my paintings. I like to build up the surface by scraping and carving at both. These painting were constructed out of layers of acrylic pastes, papers and printed impressions from fabric and built up just as I would do on a collagraph plate. I used squeegees and rollers to apply paint. I work by stripping away and adding – dressing and undressing, - revealing and veiling.
These images were Inspired by images from fashion, costume, Alexander McQueen and ancient statues displayed in museums.
I'm so happy that these two 'sister' paintings from my 'Idol' series reside together in this collector's wonderful home
Item
Idol series - Two paintings reunited; 'Myth' & 'Chrysalis'
As seen in
Private Residence
, Zeist, Netherlands
Have more questions about this item?