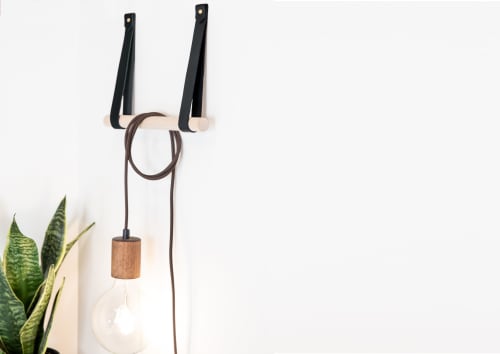 +3

Large Leather Wall Strap [V'ed End]
These minimal Scandinavian style Leather Wall Straps can be used in a wide variety of ways to add a modern Nordic feel to your home decor. Use just one as wall hanging scarf storage or loop a towel through the strap to hold kitchen or bathroom hand towels. Use two straps spaced apart as a wine bottle holder or add a dowel or driftwood inside to hang larger items like curtain rods, bath towel bars, fabric rolls, boat paddles and more.
SIZE & DETAILS
Leather width: 1 inch
Total length: leather from top to bottom measures 9 inches long
Loop hole length: from screw head to bottom of loop 8.5 inches
Parts for assembly include:
1.5 inches long brass screw (silver available upon request)
Wall anchor (holds up to 150lbs)
Illustrated instructions
Have more questions about this item?