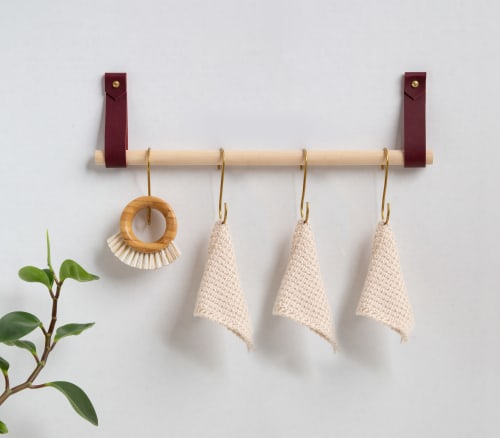 Context & Credits
Item
Hanging Dowel Kit [V'ed End]
As seen in
Private Residence
, Santa Rosa, CA

+3
Hanging Dowel Kit [V'ed End]
Shipping: shipping in the US, ask the creator about international shipping.
Item Details
Upgrade your bath or kitchen with this modern wood and leather wall mounted storage kit. Holds towels, mugs, jewelry and can even be used as a planter rail. Adding this a minimal rack instantly upgrades your space and goes great with any home decor style from Scandinavian to Eclectic.
SIZE & DETAILS
Kit Includes: two (2) wall straps, one (1) dowel [in your choice of; walnut or birch wood & your choice of length], parts for assembly and installation instructions (*hooks, towels, mugs, and props not included).
Leather width: 1 inch
Total length: leather from top to bottom measures 4.75 inches long
Loop hole length: from screw head to bottom of loop 4.25 inches
Dowel: Choose from birch or walnut wood in the following sizes:
8.5" long x .75" diameter
15.5" long x 1" diameter
20.5" long x 1" diameter
28.5" long x 1" diameter
36" long x 1" diameter
Parts for assembly include:
1.5 inches long brass screws (silver available upon request)
Wall anchor (holds up to 150lbs)
Illustrated installation instructions