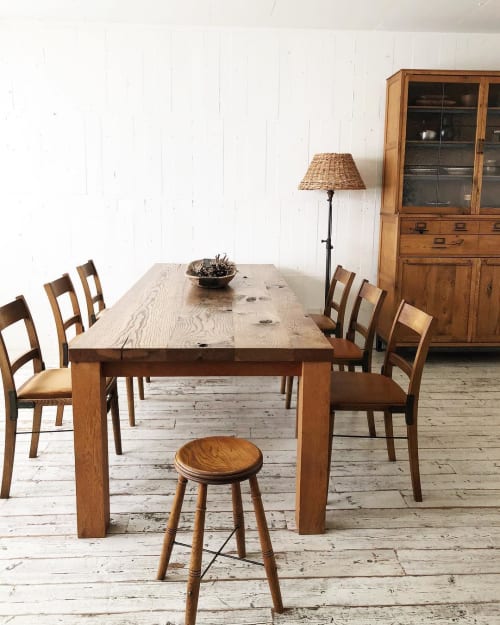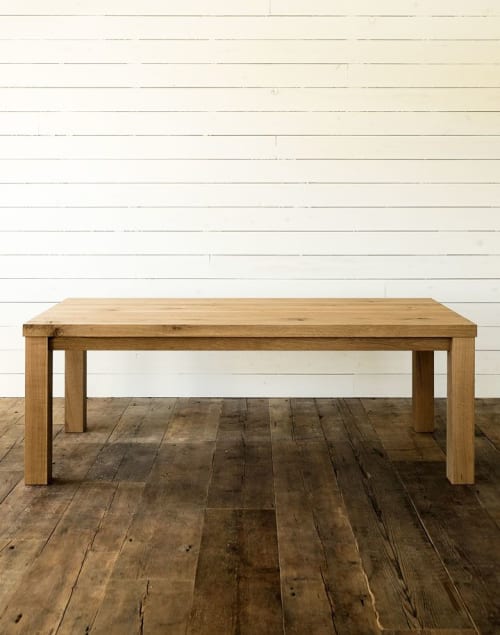 Context & Credits
Item
OAK TABLE, TS CHAIR, TS STOOL


+2

OAK TABLE, TS CHAIR, TS STOOL
This creator usually responds within 24 hours.
Item Details
OAK TABLE
Defining its distinguished look is the 55-mm thick white oak tabletop that rests on top of four sturdy, fat legs. To say that its design was "simple" would be a misnomer. The visage of each tabletop is carefully composed, incorporating the natural knots, cracks, and rough aspects of the material (including the uneven seams where the planks are joined) that have come to epitomize TRUCK style as elements that embody the strength and individuality of the wood itself.
When we make each tabletop, we approach its surface as we would a canvas, spending time deciding where and in what way to arrange the planks (which have their own unique grain pattern, knots, and cracks) by taking into consideration how well the color tones and characteristics of each look together as a whole.
Grain pattern and color tone differ from plank to plank, which is why each finished piece is singular in appearance that differs from others even of the same design. By keeping those signature yet natural "flaws" in the wood (like the knots, cracks, and roughness) just as they are naturally, the piece acquires an inimitable character.
The white oak tabletop is coated with a natural oil finish. TRUCK furniture is made with great care to preserve the character and quality of the materials that are used, so we do not finish our pieces with standard urethane coatings or the like and instead finish our products in a way that allows their character and color to be enriched as they age over time and with use.
As a furniture company, tables are something that we make on a daily basis, but we always keep in mind that to the person using it, this one particular table is going to be a part of their lives forever. .
TS CHAIR
The lightness of this chair comes from the slenderness of the frame (most clearly visible from behind) and the thin wire-like iron crosspieces that stretch between the legs. The stylish and trim cast-iron reinforcements at the waist of the chair add strength and are secured by handsome brass slotted screws. Designed not to sag, the seat feels comfortable on your bottom no matter how long you spend sitting on it.
TS STOOL
A quaint and charming stool whose many highlights include the beautiful, rustic cut lines and textured detailing on its tapered legs, the classic design of the edge of the small seat, and the thin steel crossbars at the bottom. It's light enough to pick up and carry in one hand with ease, and the concave cut of the seat feels soft on your bottom.