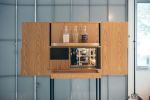 +5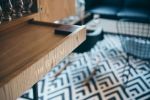 A Liquor Cabinet for The Balvenie Connoisseurs of Craft - Furniture
Featured In Roger&Sons, Singapore, Singapore
With a few adjustments, this liquor cabinet transforms into a classy, compact serving station.
A hidden display compartment swivels on pushing to unveil three signature whiskey bottles. A pull-out tray beneath creates a temporary worktop, while a drawer houses napkins and coasters.
Gold lettering. Mirrored backing. Powder-coated mild steel legs.
Have more questions about this item?