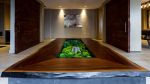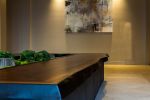 +1

Live Edge Black Walnut Planter Surround - Furniture
Located in Tysons, VA, Highgate at the Mile is a "high style," modern apartment complex built for young professionals who seek large floor plans and an abundance of amenities. The apartment is positioned as a sophisticated retreat from the bustle of Tysons with timeless design details accented by naturally inspired finished. One of many amenities, the second floor indoor and outdoor lounge showcase the natural design elements with RSTco.'s live edge black walnut planter surround and coffee bar.
Constructed on site, the black walnut furniture pieces accent the rustic, homelike feel of the lounge. The live edges highlight the material's character and beauty in the knots and grain structure. With the dark tones of the walnut furniture, the aesthetic is simple and welcoming. Resembling an entertainment area of a suburban home more than a typical apartment lounge, the room features pendant lighting, marble counters, a small couch, and large windows that look out to a neighborhood park.
The bookcase is a unifying point of the aesthetic in the living room. Pictures, old maps, books, and family relics hide within the drawers and the shelves and rest on top of the curly french sycamore slab. It's a personal design touch within the room that joins with the handcrafted RSTco. bookcase to make the room truly special.
Have more questions about this item?