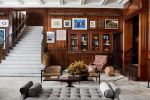 +4

Wood and custom upholstery options.
One of a Kind item
Inquire about Comissioning a Custom piece
Commission time: 2-6 weeks
Item Details
These teak seating / side table orbs are located throughout the common spaces at the Adolphus hotel in downtown Dallas, Texas. These pieces were commissioned by SWOON the Studio as part of their recent interior design makeover of this historic space.