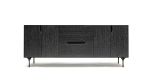 +4

Titan Credenza - Showroom Model - Furniture
The Titan Credenza stands as a reference to industrial aesthetics with a contemporary design language. The strong blackened steel frame is complimented by the finely tapered brass stiletto legs while the delicately curved drawer and door cut-ins, backed by blackened steel plates serve as the signature of the collection, forming the distinct silhouette against the cerused oak body.
All Lumifer products are designed by Javier Robles and made by local NY artisans.
Finishes
Wood Exerior: WD-10 cerused black oak (rift)
Wood Interior: WD-1 black oak
Metal frame: MT-2 blackened steel
Metal legs: Oil rubbed brass - Dark
72"W x 30"H x 18"D
Item is sold as is. Pricing shown is after floor item discount.
Also shown:
Helix Single Drop Tier Pendants by Lumifer
Equilibre, by John O'Carroll 2013
Have more questions about this item?