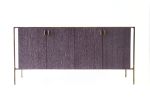 +4

Ponte Credenza - Showroom Model - Furniture
With the signature Lumifer brass 'T' component, the Ponte Credenza juxtaposes a delicate brass frame with a wooden monolith.
Each of the two parts maintains its own language, materiality, and texture, making no effort to appear as a uniform body. However, while objectively no more than a 'box and frame' the Ponte bridges the two elements, elegantly suspending the mass of the carcase over the span of the brass framing with custom hardware.
All Lumifer products are designed by Javier Robles and made by local NY artisans
FINISHES
WD-13 Bordeaux cerused oak
ORB-1 Oil Rubbed Brass Light (plated)
60"W x 28"H x 19"D
Item is sold as is. Pricing shown is after floor item discount.
Also shown:
No. 1 Umbrella Stand by Lumifer
Have more questions about this item?