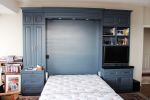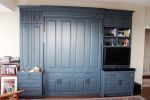 +2

Bedroom organizer with built-in 'Murphy Bed' - Furniture
Entertainment unit with build in electric fireplace, bedroom organizer with built-in 'Murphy Bed'.
The entertainment unit included storage for electronics on the left and right cabinets. Above we provided shelving for display items that included lighting. The napoleon fireplace was electric due to the fact that the condo was a high-rise. But despite this fact, it provided heat and a very realistic impression of a fire. The fireplace surround was a mix of marble, and a custom fireplace. The woodwork in the fireplace was stained to match antique furniture.
The bedroom millwork was designed to be able to house visiting children and their luggage. It included hanging storage, drawers, as well as a pull out writing desk. The most impressive part of this unit was the queen size 'Murphy style' bed that dropped down when visitors arrived. The european hardware was sleek in design and allowed an average person to easily operate the drop down on their own. When the visitors left, the bed is folded up and the room is available as a secondary TV room.
Have more questions about this item?