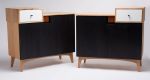 +1

Bar Harbor Server - Furniture
Inquire about Comissioning a Custom piece
The Bar Harbor Server case pieces were designed and built by me recently for a wonderful, long-time client who has collected several of my works, and also has a remarkable collection of fine art. The two servers presently flank the Leaning Trestle dining table and Edgecomb chairs that he purchased from me a few years ago. Their colors complement the amazing artwork that hang above them and throughout the entire home. I had a lot of fun creating the drawers for useful storage and configuring them in an interesting and colorful composition.
The small mahogany drawer and the two ebonized walnut doors of each piece have routed finger purchases for opening. Behind one of the doors is a pull out walnut tray. The cases and doors are a mixture of solid and veneer for both the oak and the walnut (ebonized for the doors). I ebonized the walnut doors with an iron/vinegar solution and left the oak natural, save for the white drawer front which is painted.
Have more questions about this item?