+4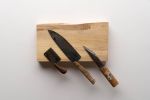 Knife Holder and Walnut Round - Furniture
Featured In Lake Martin, AL, AL
Knife Holder and a Walnut Round in walnut by Alabama Sawyer so perfect in this beautiful kitchen.
Product Description
Use your Magnetic Live Edge Knife Holder for Ideal vertical storage! A drawer of knives has obvious drawbacks, and blocks can dull your blades. Skillfully concealed magnets hold your knives floated against the warm wood grain of our reclaimed urban timber, keeping them secure and within reach. Each piece of solid walnut, white oak and other unique species features a live edge, the contour left from its previous life as a tree, meaning every one has its own natural beauty.
Dimensions: Available in 12" and 18" lengths.
Have more questions about this item?