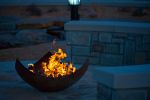 +1

King Isosceles Sculptural Firebowl - Fireplaces
Featured In Wichita, KS
This photo of the King Isosceles Sculptural Firebowl™ at WaterWalk Place in Wichita is stunning! Chris did a great job of shooting a night photo that still gives a sense of the landscape around the firebowl.
WaterWalk Place is a multi-use destination on the banks of the Arkansas River in the heart of the city's cultural, entertainment, government and business center. Featuring upscale shops, luxury living and premium business sites. Seasonal activities within the development include outdoor concerts, art fairs, charity benefits and holiday celebrations. The Waterwalk Commons features fountains, greenbelts, walking paths and two of my Sculptural Firebowls.
Have more questions about this item?