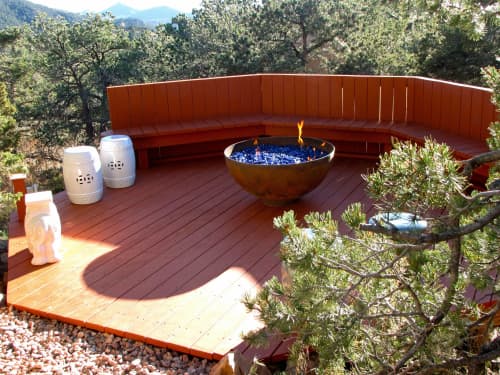 Big Bowl O' Zen Sculptural Firebowl at Rass Mandal, Santa Fe - Fireplaces
Featured In Rass Mandal Vacation Residence, Santa Fe, NM
Price from $1,700 to $2,200$1,700-$2,200
A Big Bowl O' Zen 37 inch Sculptural Firebowl provides a meditative space on the deck of Rass Mandal, a charming boutique retreat in the mountains above Santa Fe, New Mexico. With only six bedroom, guests and visitors are limited to no more than ten at a time, making it an ideal location for more intimate gatherings such as yoga retreats, women's groups or small family reunions.
Rass Mandal is a unique adobe vacation residence originally designed & constructed by a direct descendant of the daughter of Emperor Akbar of India (1542 – 1605), sister to Shah Jahan who built the Taj Mahal. Perched in the Sangre de Cristo foothills above Santa Fe, New Mexico, Its architecture is a fusion of US southwestern construction materials and Asian design.
Pricing varies by size. Gas upgrades are sold separately by a trusted partner. Price includes domestic shipping.
Item
Big Bowl O' Zen Sculptural Firebowl at Rass Mandal, Santa Fe
Have more questions about this item?