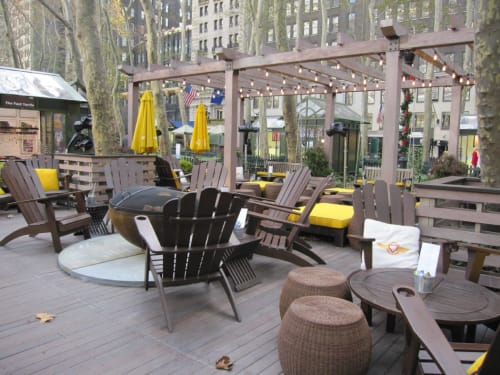 Big Bowl O' Zen firebowl
$1,700-$2,200
Pricing varies by size. Gas upgrades are sold separately by a trusted partner. Price includes domestic shipping.
The Southwest Porch, located near the southern end of the Fountain Terrace, offers all visitors the ambience and luxury usually available only to a few. Equipped with a wood fueled Big Bowl O' Zen firebowl™, Adirondack chairs, sofas, and couches typical of those found at expensive hotels and resorts, Southwest Airlines is giving all of New York an al fresco lounge to celebrate its new service to LaGuardia Airport.
Sadly, fire codes required putting a masonry wall around the Big Bowl O' Zen, so you can really only see the inside of the bowl but you can still enjoy the fire on a chill day.