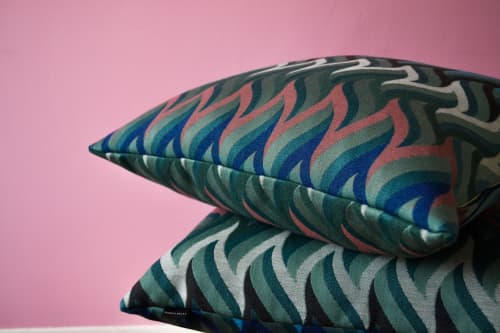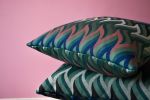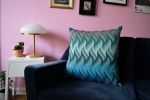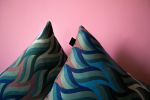 FIBONACCI LARGE SQUARE CUSHION IN WOOL - Pillows
Creator not accepting inquiries
Fibonacci was one of the winning designs created as part of the Campaign For Wool student competition, October 2020.
The design vision was selected by renowned British Textile artist and designer, Margo Selby. The prize awarded was to have the design commercially woven by Botany Weaving Mill in Dublin.
The "Stay at Home" collection was born out of the new realities that lockdown has presented this year. The project addresses the shift towards working from home and with the concurrent (and arguably linked) environmental crisis – the urgent need for symbiosis between the natural environment and our working environment, in the micro and macrocosm.
Fascinated by the psychological concept 'biophilia' (humanity's deep need for connection to the natural world), Fibonacci features a mesmerizing motif woven in wool pairing the beauty of mathematical patterns – prevalent in the natural world, and so suited to weave, with a bold graphic style.
I am over the moon to launch my first textile product! Fibonacci is a limited production cloth currently available as both cushions and fabric meterage.
Item
FIBONACCI LARGE SQUARE CUSHION IN WOOL
As seen in
Creator's Studio
, Huddersfield, United Kingdom