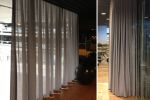 Monsoon - Basalt - Curtains & Drapes
Featured In Melbourne, Australia
A great example of our fabulously multi-purpose draperies is 50 Albert Road - a multi-residential development in South Melbourne which opened in late 2013 and was designed by Elenberg Fraser.
The brief from Melissa Chen (formerly of Elenberg Fraser) was for natural looking fabrics that would disguise a window overlooking a car park. The fabric also needed to act as a dividing curtain (lined with Broadline FR) between a gym and a yoga studio.
Have more questions about this item?