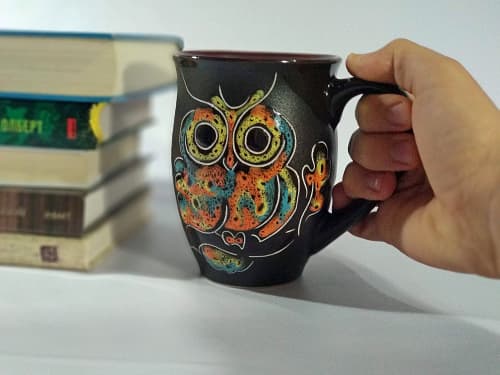 +2

Pottery coffee (tea) mug «Owl» 16.9 fl oz
Pottery coffee mug with "Owl" ornament. Size: 16.9 fl oz, 500ml
Hand decorated with nice colorful glazes. Produced from high quality clay.
Completes from different textures.
Fills up the space with cozy and homy atmosphere. Sustainable gift idea.
PATTERNS' SINGULARITY
What is quite hard to show on photos: the glazed patterns are look as a 3D, a bit emboss.
Different textures: smooth and a bit unsmooth, matte.
DETAILS
- Combi-textures: glazed inner surface, unsmooth like a sandpaper background of outer surface, smooth and bright glazed patterns.
- Handle's shape is perfectly comfortable for hands.
- Microwave safe
- Dishwasher safe
- Made from red stoneware clay
- Food safe
HOW IT'S MADE
- Raw clay is poured into molds and baked.
- Each mug is individually hand painted with multi-colored glazes and baked again.
- NOT mass-produced ware.
The pottery studio located in Sloviansk, Ukraine. For centuries habitants made ceramic ware and formed strong and long-standing pottery traditions.
UNIQUE
We put a pattern on each mug manually. So please keep in mind that each unit might have minor differences in colors and patterns. But you will have a really unique
distinct drinkware!
JUST BEAUTIFUL
Handmade coffee mug will fill your day with pleasure and love. They are nice, artistic and practical. Thanks to combined materials and textures fits perfectly any interior, make a space around cozy and homy. Suits perfectly for daily coffee and tea rituals.
GREAT GIFTS
Mug is always a good gift idea. Our mugs are housewarming gifts which bring a cozy atmosphere to any room. Cupscho mugs is not just a simple drinkware – they are true small pieces of art! Make gladdened those you love with it!
Mug is an excellent gift for any celebration like anniversary, birthday, for any holiday like Christmas or Mothers Day.
Good as a memory or distance gift. You can buy it and send directly to the person you love.
MADE TO BE USED
We always think how people will use our mugs day by day. That's why we made textures exactly for daily usage.
- Easy to clean
- Easy to dry
- Not absorb smells
- Not cracked because of hot liquid or high temperature
- Colors stay bright even after years of use
Have more questions about this item?