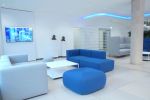 Firkant - Couches & Sofas
Featured In KSB Service GmbH, Frankenthal, Germany
Projekt 62 Architects applied KSB's branding of cold, muted greys and ocean blues throughout the space – including the fabric choices. Where these colour temperatures could create a chilly atmosphere, Projekt 62 specified the soft contoured EC1 sofa and Firkant poufs to cultivate a relaxed ambience – inviting visitors to sit in a clean, bright space.
The EC1 sofa offers integrated power and data for visitors waiting, while the Firkant poufs are easily manoeuvrable and perfect for creating huddle zones for quick meetings.
Have more questions about this item?