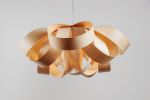 +3

Gross Lamp Light-Chandelier Lighting-wood venner
Featured In Garden mercado vegetariano, Mar del Plata, Argentina
Price $459$459
Price Before Discount $499$499
1 People have this item in their cart right now.
Custom Options Available.
Ask The Creator
For Customization.
Craftmanship Product!
Gross is a majestic design of large volume built with sixteen veneers.
It is built with natural wood veneer sourced from sustainable forests. With this translucid and noble material, you will appreciate the wood grain.
In its simplest aesthetic meaning, wood grain is the alternating regions of relatively darker and lighter wood. It is an aleatory pattern drawn by nature and environmental conditions. Because it is unique and unrepeatable, it makes your light fixture so special.
Quality: I enhance the wood veneer with the HARZ/LTW technology. This invention allows a durable and flexible wood that keeps its tone over time and resists humidity, heat, sunlight, and cracks.
Clean and maintenance: just clean it with a damp cloth to remove dust!
Sustainability: Natural wood veneers are obtained from a sustainable forest in Argentina. The tree specimen is listed as "apt for cutting without environmental risk" by the Argentinian Law of Forests.
Sizing (once mounted):
H: 17.8 in.
W: 39.4 in.
D: 39.4 in.
Light bulbs capacity: 1 lamp E26/E27 LED or Smart LED.
We pack this product safely to travel securely during transportation. This unit has been designed to be shipped pre-mounted, meaning a more compact, secure, and easy-to-handle packaging. The final mounting involves a proven and intuitive process that takes 10 to 15 minutes, with a few steps guide. The mounting only involves attaching the wood pieces to a central piece and doesn't require gluing, soldering, or any technical working. All elements and instructions are provided, with an experience meant to be fun and entertaining. Become part of the designing world!
Have additional questions? Please don't hesitate to message me
Shipping: DHL 5-7 days
Free Shipping in the US, ask the creator about international shipping.
Estimated Arrival: February 11, 2022
| Dimensions | Weight |
| --- | --- |
| 17.8H x 39.4W x 39.4D in | 4.6 lb |
Returns accepted within 14 days
See details
Item
Gross Lamp Light-Chandelier Lighting-wood venner
Have more questions about this item?