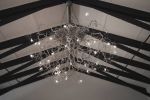 +2

"Roots" (upon special request) - Chandeliers
Featured In Miami, Miami, FL
Inquire about Comissioning a Custom piece
"Roots" - Ceiling Light (special request)
The specific creation was made upon a special request by the Village Council of Pinecrest and was placed at the Cultural Centre of Pinecrest, Miami.
The light fixture is a 20-branches-chandelier made of Pewter (silver colour) extended at its maximum diameter of 150cm/60". The diameter of the light fixture is approximate as pewter wire is highly flexible - that makes the entire fixture very versatile: by bending and shaping the wires, the fixture's overall size can be adjusted to fit in the space. It takes 12-Volt LED dimmable G4 bulbs of 2,2W/3000k each, which corresponds to a 25W conventional lamp, while the light fixture comes complete with its own transformer (ingeniously kept out of sight) that turns the 220V or 110V to 12V. It is available both in 220V/110V. For its placement, special joints on the ceiling were used for the branches to be expanded and hold at their place.
As a HANDMADE creation is tailor-made to the needs of the customer - which means that the specific creation could be modified in size so as to meet any customer's requirements.
The light fixture is accompanied by a Certificate of Authenticity signed by the designer.
Contact for more info
Have more questions about this item?