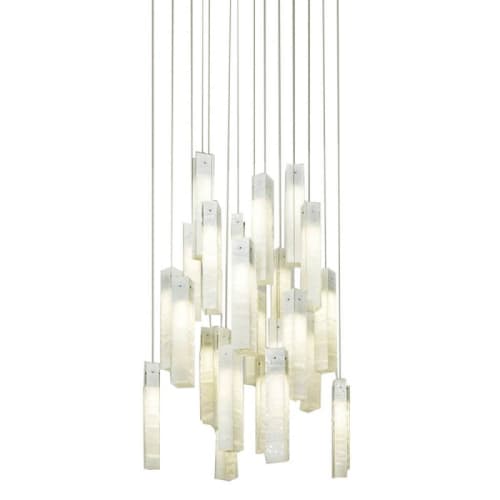 +14

KA1891 TANZANIA - Chandeliers
Creator not accepting inquiries
Multiple panels of glass form modern lines for each Tanzania Pendant. Whether you want individual pendants, or a multi-pendant chandelier, you may customize your fixture with as many pendants as you need - all tailored to fit your space and your style. Unique light refraction animate any surface nearby. Attract attention, provoke emotion to the imagination with games of light and matter. Such as the ambition and the creative spark of the "Fontaine" style. Crystal is a beautiful material. It has been with us for centuries and remains one of the most widely used components for chandeliers for its unworldly quality of reflecting light. This hanging light sculpture looks interesting from any angle, and makes nice shadows.
SPECIFICATIONS:
Collection: Residential
Size: 30" Length x 30" Width x 50" Height Adjustable (Custom sizes also available)
Extension: Adjustable cables for a customizable length up to 12 ft.
Shape: Pendant
Frame Finish: Matte Black (Different finish options available at no additional cost)
Materials: Steel, Glass
Weight: 60 lbs
Bulbs: LED G4 2watt
Assembly: Full assembled
Dimmer Switch Compatible: Optional
Shipping: LTL
Rush Order: 4-6 Weeks; 15% added to the total
Regular Lead Time: 6-10 Weeks
Warranty: 5 Years Full Coverage (includes replacement parts)
SIZE OPTIONS:
Size:Price:
18" Length x 18" Width x 30" Height $2,488.00
24" Length x 24" Width x 40" Height$3,911.00
30" Length x 30" Width x 50" Height (as shown)$4,613.00
36" Length x 36" Width x 60" Height$6,673.00
42" Length x 42" Width x 70" Height$8,336.00
66" Length x 30" Width x 70" Height$10,598.00
86" Length x 38" Width x 70" Height$12,744.00
| Dimensions | Weight |
| --- | --- |
| 40H x 30W x 30D in | 60 lb |