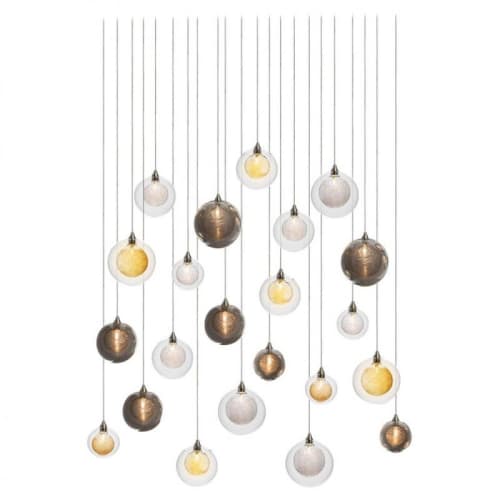 +11

IQ2077 MIXED BLOWN GLASS PENDANT DINING ROOM CHANDELIER
Creator not accepting inquiries
Hand blown glass pendants fixtures. 22 mixed size and color glass pendants on 48" x 18" Rectangular Canopy with LED G4 2W bulb. Fixture dimmable. 2 additional ft are added to every wire. Also available in all the same color. The center orb of each Kadur pendant is filled with drizzled glass fibers, which are then encased within a pristine, outer glass sphere. Whether you want individual pendants, or a multi-pendant chandelier, you may customize your fixture with as many pendants as you need - all tailored to fit your space and your style.
SPECIFICATIONS:
Collection: Residential
Size: 48" Width x 18" Depth x 72" Height (Custom sizes also available)
Shape: Pendant
Metal Finished: Matte Silver (Different finish available at no additional cost)
Materials: Other Blown Glass, Powder-Coated Metal
Weight: N/A LBS.
Extension: Adjustable cord customizable up to 12 ft.
Bulbs: LED G4 2watt / LED G4 3watt
Assembly: Some assembly required.
Dimmer Switch Compatible: Optional
Shipping: Free Door-To-Door Shipping Worldwide!
Rush Order: 4-6 Weeks; 15% added to the total
Regular Lead Time: 6-10 Weeks
Warranty: 5 Years Full Coverage (includes replacement parts)
SIZE OPTIONS:
SizePrice
24" Width x 12" Depth x 42" Height $2,870.00
28" Width x 12" Depth x 48" Height $3,370.00
34" Width x 12" Depth x 54" Height (as shown)$4,770.00
40" Width x 14" Depth x 66" Height $6,820.00
48" Width x 18" Depth x 72" Height $8,610.00
54" Width x 20" Depth x 76" Height $10,824.00
60" Width x 24" Depth x 80" Height $12,633.00
| Dimensions | Weight |
| --- | --- |
| 60H x 40W x 40D in | |
Item
IQ2077 MIXED BLOWN GLASS PENDANT DINING ROOM CHANDELIER