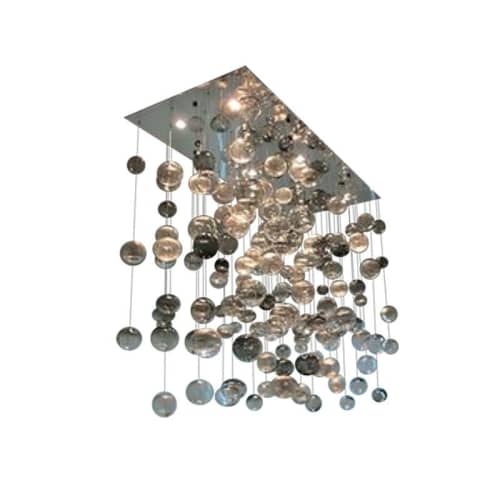 +15
AM1077 CUSTOM BUBBLES - Chandeliers
Creator not accepting inquiries
Delicate in appearance, the optically rich glass bubbles are hand blown and dented for optimal light reflection. Custom bubble colors are pure silver and 22k gold leaf. This design is extremely versatile to fit any space and décor. All aspects can be customized-hardware finish, dimension (including dramatic overall heights), and the most current LED illumination options. We hope to bring this joy to you and your environment as we ultimately believe that good design should make the world around us a more beautiful and harmonious place to live. At Alan Mizrahi Lighting Design, we supply and manufacture many highly sought after designer pieces. All chandeliers can be customized by a number of lights, style, color, and size to meet your specific needs. Every chandelier can also be combined with a matching table lamp and wall lamp to accomplish the best room design.
SPECIFICATIONS:
Collection: Murano
Shape: Suspended Bubbles
Size: 33" Width x 44 Length x 46" Height (Custom sizes are also available)
Materials: Metal Frame and Glass Bulbs (Available in multi-colored bright colors as well)
Finish: Chrome (Custom finishes are available at no additional cost.)
Lights: 28 USA/ 220V Europe 40 watt halogen Gi6 bulbs (included)
Weight: 170 lbs.
Assembly: Each piece comes with easy to understand assembly instructions for your convenience.
Dimmer Switch Compatible: Optional
Shipping: Free Worldwide
Rush Order: 4-6 Weeks; 15% added to the total
Regular Lead Time: 6-10 Weeks
Warranty: 3 years for pieces under 30", 5 years for pieces over 30"
SIZE OPTIONS:
Size:Price:
36" Width x 12 Length x 42" Height$4,280.00
46" Width x 14 Length x 48" Height$5,850.00
66" Width x 16 Length x 48" Height (as shown in image)$7,480.00
86" Width x 24 Length x 54" Height$9,680.00
120" Width x 30 Length x 58" Height$13,660.00
| Dimensions | Weight |
| --- | --- |
| 40H x 40W x 40D in | 170 lb |