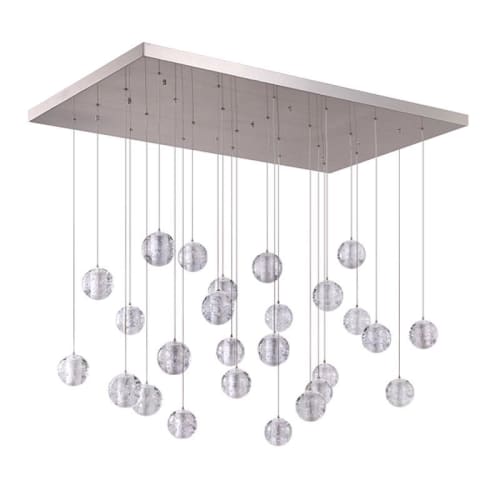 +15

AM6804 METEOR SHOWER - Chandeliers
Creator not accepting inquiries
The "Series Meteor Shower" is a gorgeous mix of modern world and contemporary class, designed to perfection with just the right amount of glass and "air" to create a piece that looks futuristic even as the years pass. This unique and stunning fixture features small cast glass sphere pendants with a frost cylinder shaped area that holds the light bulbs. These lights look like small candles floating in spheres of water, which give it not just a contemporary edge, but a tranquil one. These tiny bubbles like pendants "float" in a gorgeous, subtle fashion from above. In addition to its effortlessly chic air, it's also available in different sizes to fit your needs and budget. At Alan Mizrahi Lighting we specialize in bringing lighting concepts to reality, whether your inspiration comes from a rough sketch, an existing chandelier, our original concepts, or even your own creative imagination. Large or small, our team can meet the challenge, and can even coordinate the production of a private collection, where all finishes are kept consistent.
SPECIFICATIONS:
Shape: Rectangle
Size: Length: 40" Length x 14" Wide, each Pendant can be adjusted up to 18 ft height.
Ceiling Plate: 1" thick
Finish: Brushed Nickel (Custom finishes are available at no additional cost)
Material: Nickel, Glass.
Glass: The glass is made of solid cast borosilicate glass
Lights: 40L 10 watts G9 bulbs (included) Max bulbs. Suggested: 20W
Power Supply: 12V power supply included in the canopy
Each Globe's Diameter: 4" wide
Weight: 164 lbs.
Extension: Adjustable cables for a customizable length up to 18 ft. .
Assembly: The glass balls need to be latched onto the base. Each piece comes with an easy-to-understand installation sheet for your convenience.
Dimmer Switch Compatible: Optional
Shipping: Free Worldwide
Rush Order: 4-6 Weeks; 15% added to
Regular Lead Time: 6-8 Weeks
Warranty: 5 Years Full Coverage (includes replacement parts)
SIZE OPTIONS
SizesPrices
16" Length x 8" Wide x 2" Depth x 12' Feet Height (8 Light)$1,756.00
20" Length x 10" Wide x 2" Depth x 12' Feet Height (10 light)$2,632.00
24" Length x 12" Wide x 2" Depth x 12' Feet Height (18 light)$3,96000
30" Length x 14" Wide x 2" Depth x 12' Feet Height (26 light)$4,56400
36" Length x 14" Wide x 2" Depth x 12' Feet Height (32 light)$5,490.00
40" Length x 14" Wide x 2" Depth x 12' Feet Height (40 light) $6,490.00
48" Length x 18" Wide x 2" Depth x 12' Feet Height (56 light)$7,474.00
66" Length x 18" Wide x 2" Depth x 12' Feet Height (70 light)$8,414.00
80" Length x 22" Wide x 2" Depth x 12' Feet Height (80 light)$10,248.00
90" Length x 22" Wide x 2" Depth x 12' Feet Height (92 light)$11,092.00
102" Length x 30" Wide x 2" Depth x 12' Feet Height (104 light)$12,848.00
116" Length x 33" Wide x 2" Depth x 12' Feet Height (104 light)$16,026.00
| Dimensions | Weight |
| --- | --- |
| 30H x 30W x 30D in | 164 lb |