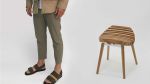 +3
Ane stool - Chairs
Featured In t bac design, Fitzroy, Australia
Custom options available, ask the creator for customization.
Ane stool is a solid timber stool with a powder coated steel frame. The seat is formed through the unique use of multiple pieces of one shape of wood positioned and cut in a dynamic way. The simple placement of three geometric circles allows the Ane timber stool to be cut in a way to give the appearance of a complex furniture piece.
Have more questions about this item?