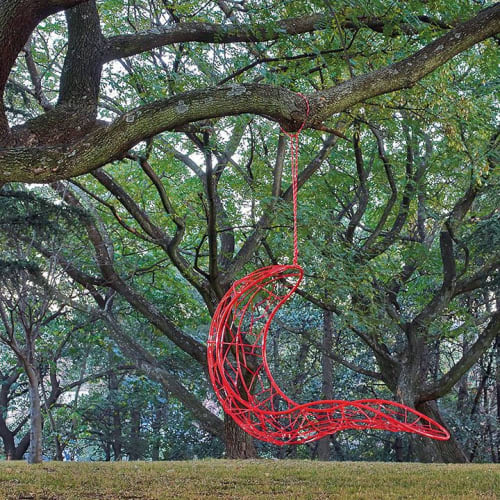 +2
Recliner - Twig Pattern - Red Hanging Swing Seat
Commission time: 2-4 Weeks
One of a Kind item
Inquire about Comissioning a Custom piece
The Recliner hanging swing chair has elegantly curved lines & is sculptural and dynamic with a considered balance point. Fluid & organic, it lends itself for use as a functional art piece. It is not static, its gentle movement gives a floating relaxing experience with panoramic views of its surroundings. The nature inspired pattern detailing is reminiscent of the veins in leaves, tree branches intersecting, patterns in dragonfly wings & cracked soil. The chair ensures an extremely comfortable lounging experience & has a cozy cocoon-like feel that embraces your body and soul.
The recliner has two versions with legs available for the more grounded person.
Each one is made by hand, and the core frame is standard to ensure consistency in shape and comfort. Due to the variance of craftsmanship going into each chair, every piece has individualism and uniqueness in some of the pattern detailing.
They are ideal for inside or outside use and look gorgeous on a deck, patio, hanging from a branch of a tree or anywhere indoors.
One of the finishes that can be chosen for indoor use is Ferrograin Black, that has a sensual feel that is soft and suede-like to the touch.
Contact joanina@studiostirling.co.za for more information
Have more questions about this item?