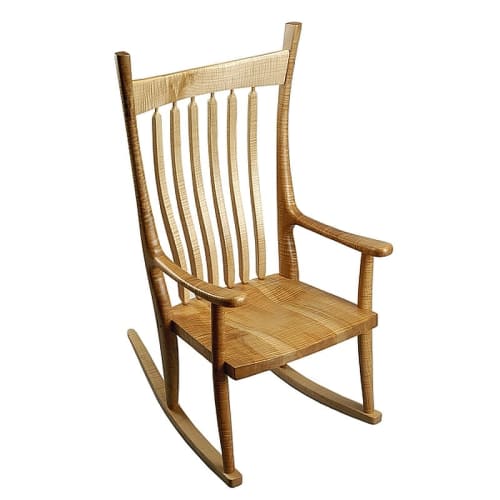 +4

Item Details
My original classic, the Brendan Rocker in the Wood Seat version. Completely designed from the ground up after six years of refining the cushion seat version.
Many people ask which is most comfortable, the wood seat or cushion seat version. Since the beginning I have given customers the option to swap their wood seat chair for the cushion seat chair if it isn't as comfortable as expected.
Eighteen years later and  no one has taken me up on the offer. A few people have traded up to a wood seat chair from cushion seat, and my dealers report the same, so it is safe to say my deep scoop wood seat (a full 1" of scoop) is good for hours of sitting, reading and hockey games.
We high grade out the seat material from each load of lumber which comes in, eyeballing each plank for the combination of structural soundness, color and graining needed for the seat. I experimented with one piece seats many years ago with poor results- problems in all three of the listed requirements.. Now we search for boards we can make into two or three piece seats.Our goal is for the seat laminations to be blended as nicely as possible, often invisibly.
Like all our chairs, rockers get two coats of precatalyzed finish and is impermeable to cool water and mild solvents.