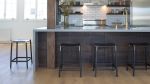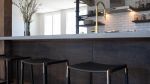 De Haro Backless Counter Stool - Chairs
Featured In The Box Factory, San Francisco, CA
De Haro Counter Stools in charcoal black and copper bronze brackets in The Box Factory, the newest residential development in San Francisco.
PRODUCT DESCRIPTION
The De Haro counter stool makes itself right at home at a kitchen counter or island. Well­placed foot rests contribute to its clean lines and surprising comfort. North American hardwoods and patented metal brackets made in­house are the base materials that bring this functional and modern yet timeless design to life. The entire Stemn line is lightweight, versatile and extremely durable.
-North American Hardwoods
-Metal brackets designed and made in­ house
-Natural oil matte finish
-Comfort-­first design
-Lightweight for versatility
-Built to last
-Made with love by folks in California
Specifications
Dimensions: Height 25.3" x Width 18" x Depth ­ 17"
Weight: 4.5 Kg / 10 lbs
Have more questions about this item?