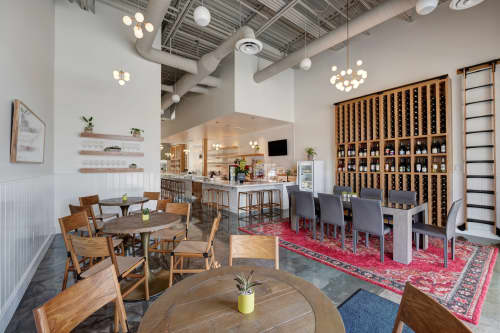 Image credit: VJ Arizpe (@vjarizpe on Instagram)
Featured In Sonoma Wine & Cheese, Katy, TX
Inquire about Comissioning a Custom piece
Mariposa Standard Chair by Fyrn on-site at Sonoma Wine & Cheese.
Design by Farrah Cauley. Build by Jacob White Construction
Photo by VJ Arizpe (@vjarizpe on Instagram)
PRODUCT DESCRIPTION
Mariposa Standard Chair - It took years to build a chair that would last for generations. Proud winner of Interior Design Magazine's 2017 Best of The Year Award, The Mariposa is the building block for the entire Stemn Collection. The materials that bring its clean lines and functional design to life are North American hardwoods and patented metal brackets, made in ­house. Designed for comfort, it's also lightweight, versatile, and incredibly durable. See why James Beard-winning chef's on both coasts are making this their go-to restaurant chair.
-North American Hardwoods
-Metal brackets designed and made in ­house
-Natural oil matte finish
-Comfort-­first design
-Lightweight for versatility
-Built to last
-Made with love by folks in California
Specifications
Dimensions: Height 33" x Width 17.5" x Depth ­ 21.3"
Weight: 5.4 Kg / 12 lbs
Have more questions about this item?