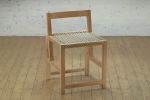 +2
Kumiki Dining Chair
Featured In Sound View Greenport, Greenport, NY
Loving the vibes at the Sound View hotel.
Check out our Kumiki chairs in the dining area!
Product Description:
The Kumiki Dining chair exemplifies Japanese minimalism and precision with its interlocking wooden frame and simple woven seat creating a striking profile.
Frame: Teak Wood / Clear Matte Finish
Webbing: Grey Outdoor Grade Rope
Width: 17.5"
Depth: 17.5"
Height: 26"
Seat Height: 18"
Have more questions about this item?