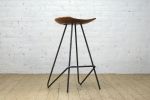 Perch Counter Stools - Chairs
We found our perch counter stools in natural iron in this fabulous Home Polish picture!
Perch yourself up on this organic yet sleek style stool. Each solid Teak root seat is hand carved and is completely unique from one another due to the marbling in the grain of salvaged Teak root.
Seat Material: Teak Wood / Natural Finish
Frame Material: Iron / Clear Powder Coat
Width: 16"
Depth: 15"
Height: 27" / 31"
Have more questions about this item?