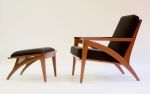 Wise Lounge Chair & Ottoman in Mahogany
Custom options available, ask the creator for customization.
With lines heavily influenced by mid-century designs, the Wise Lounge Chair & Ottoman also has many handsome, handmade details. Where the back meets the arched leg a haunched mortise and tenon joint locks in the two members with a look and feel of strength. The arm is hand shaped providing a comfortable arm rest and a sleek, sculptural look; it is "let-in" to the back where it also includes a mortise and tenon joint. At the front, the arm terminates on top of the front leg, nesting into the angle created by the joint where the legs meet. A tenon solidifies this connection.
The Wise lounge chair is built from a single plank of the hardwood of your choice to ensure the color is uniform. The solid back– laminated in the interest of structural stability– is veneered with thick shop-cut veneer, sawn from the same wood as the rest of the chair. One of my favorite views of the chair is from behind, where the overall shape and angularity of the chair can be seen along with beautiful expanse of wood selected for the back.
I worked closely with my upholsterer to have cushions made that were both comfortable and sleek. The combination of a 4″thick high density foam seat and 3″ thick back works very well providing super support and comfort while not overpowering the wooden framework of the chair with its mass. The cushions are loose and able to be flipped. They can be upholstered in your choice of fabric. Please contact me and I would be happy to share a link to fabrics that my upholsterer regularly works with from which to choose.
Have more questions about this item?