Image credit: Tim J Baker Photography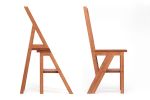 +4

Multi-functional, space-saving and intriguingly classified as 'mechanical furniture', the Iford Library Step Chair is a contemporary take on the metamorphic library steps which were first built in the mid-18th century for the private libraries and offices of the European nobility.
In a modern-day setting this unique piece is increasingly popular in kitchens, bearing relevance to the ever-increasing need to maximise space in our homes and combine form and function to optimum effect.
$151 Shipping in the US, ask the creator about international shipping.
Have more questions about this item?